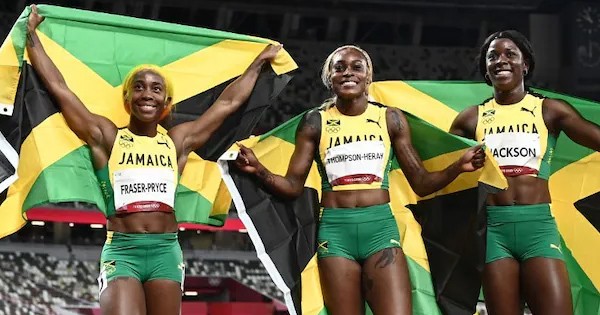 The small island of Jamaica has made history once again in the world of sports. Three runners — Elaine Thompson-Herah, Shelly-Ann Fraser-Pryce, and Shericka Jackson — recently became the fastest women in the world during the 100-meter dash at the 2021 Olympics in Tokyo.
Thompson-Herah came in first place to win the gold medal in 10.61, Shelly-Ann Fraser-Pryce came in second place to win the silver medal in 10.74, and Shericka Jackson won the bronze medal in 10.76.
With her win, Thompson-Herah broke the second-fastest time in history set by the late Florence Griffith-Joyner, who became the fastest woman in the world in 1988. However, Griffith-Joyner still holds the world record with a best 10.49.
This was the first Jamaican sweep of the medals since the 2008 Olympic Games in Beijing. That was the same year that Usain Bolt, who is also Jamaican, became the fastest man in the world.
Bolt proudly celebrated the historic 2021 win by the three women by tweeting: "Clean Sweep.. #TeamJamaica"
News Source: BlackNews.com