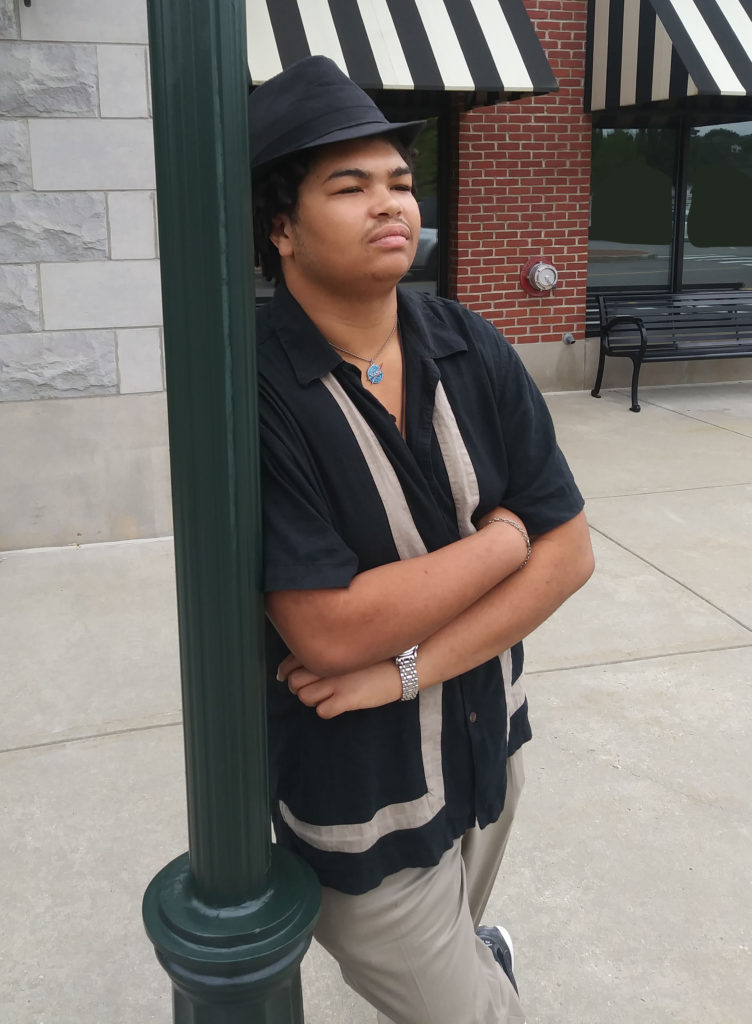 Check out "The Concerto", the latest video from The ZYG 808. Zyg, a percussionist and lyricist was born in Bronx, NY and raised in New Bedford and Cape Cod, Massachusetts. His mother lives in the Bronx, so he visits there quite often.
The ZYG 808 is a reference to the Supreme Alphabet (Zig-Zag-Zig, Why God) and the classic drum machine, the TR-808.
He raps and plays a cocktail kit drum set at the same time. One night after a show, and audience member gave ZYG dap and said, "Yo, I'm calling you 808 from now on, 'cause you got that beat going!", so 808 was added to his name.
The ZYG 808 started drumming before he was born. His father would tap on his mother's belly and he would tap back. His father started tapping out patterns and he would repeat them. He got his first drum set when he was four. His father is noted jazz artist and playwright, Mwalim DaPhunkee Professor and he grew up in a home where there was an instrument of some type in almost every room of the house. He gravitated to the djembes and hand percussion.
At age 10 The ZYG 808 got a full-sized drum set for his birthday along with lessons from GroovaLottos drummer, Eddie Ray Johnson. By age 11 he was featuring with the band at concerts and shows. By age 13 he joined the band as a percussionist.
The ZYG 808 began his musical career as a percussionist and drummer. He did his first studio session at age 7, adding African drums to the House Music album, "Deep Soul Chants & Hollers". By age 12 he was a headlining performer at the Boston Jazz Fest.
His drumming influences include, Art Blakey, Max Roach, Clyde Stubblefield, Quest Love, Eddie Ray Johnson, Tito Puente, Joe Cuba, Lionel Hampton, and John Blackwell, Jr.
Also at age 13 was when he started MCing with his cousin, JJ Nice and showed a natural knack for lyric writing. By age 14 he and his cousins -performing as 'Soul Poet's Syndicate' recorded and released, "Flippin'" an anti-opioid anthem and music video in support of regional anti-opioid campaigns. JJ Nice and his family moved to California and The ZYG 808 decided to keep going as a solo artist.
At age 14, when other kids were getting summer jobs as dish washers and cutting lawns, The ZYG 808 went on tour with The GroovaLottos as well as busked on Weekends, salting away his earning towards a bigger plan that he had in mind.
One Sunday morning he called a breakfast meeting with his father to discuss his plans to enter the Hip-Hop game as an MC, percussionist and producer and wanted guidance from his father in working with the industry. He also wanted to create a subsidiary of his father's company, Liberation Multimedia, LLC called 'Soul Poets Records' that would focus on hip-hop and contemporary r&b, where as Liberation Multimedia is better known as a jazz, classic soul, and dance music label.
As part of his development, his father gave him a homework assignment for the next time he went to New York to visit his mother, "Pay a visit to 1520 Sedgwick Ave and say a prayer." In his research, The ZYG 808 discovered that his father sent him to the birthplace of Hip-Hop when DJ Kool Herc threw a now legendary party on August 11, 1973.
In September of 2017, The ZYG 808 began making his first solo appearances as an MC and percussionist at community events, youth conferences, music festivals, open mics, local radio stations, and programs around New England and New York City. In April of 2018 he won his high school talent show with a performance of "Explanation", driving the audience wild with his ability to rap and play drums at the same time.
Gravitating towards MCs who are storytellers, The ZYG 808 is a fan of contemporary artists such a J Cole, Kendrick Lamar, Jarren Benton, and Hopsin. He is also a serious fan of Rakim, Slick Rick, Special Ed, Public Ebemy, Dead Prez, Big Daddy Kane, Notorious B.I.G., Ice Cube, Nas, and A Tribe Called Quest.
He is quick to tell you that he is, "An Emcee, not a rapper," noting that he doesn't mumble rhymes into a USB mic on a laptop. He actually prefers live shows and the interaction he can have with a live audience. "I can host a show, not just perform. Also, everything I record has been performed live a bunch of times before we take it into the studio."
The ZYG 808 is of Caribbean and Native American heritage. He is an enrolled member of the federally recognized Mashpee Wampanoag tribe in Mashpee, MA where he is an active member of the Youth Council. He is also a member of The Universal Zulu Nation.
He is currently a featured performer on The Phunk Hits 2018 summer concert tour along with The GroovaLottos and other featured artists.
The ZYG 808 ARTIST STATEMENT:
Reality Check: While my origins are from "The Hood" I'm not and don't try to front like I am. I live in a rural/suburban area and my Pops is an artist and academic. I visit the Bronx a lot and feel very much at home there, but I have trees in my back yard. My father had me around The Last Poets, Askia Toure, and Amiri Baraka as a very small child. A lot of classic hip-hop and spoken word artists are like aunts and uncles to me. All of this shapes my concept of rapping and making music and informs the hip-hop that I create.
Part of developing as a musician and Emcee is to understand the tradition you're coming out of. The MC/Emcee came about long before hip-hop. There were the street poets and griots who were rapping before English was forced upon us. Wampanoags had story keepers and song keepers. All of this is the foundation of my place as an Emcee.
Hip-Hop music is based in the drum. Aside from the boom bap, Hip-hop was taking bits and pieces of music from the West Indians, Cuba, Puerto Rico, and Blues and Soul from the US. The Bronx was a melting pot of all of these cultures. I was born in the Bronx and raised by a musician and griot.
Some of the mainstream hip-hop music is a clear example of hip-hop losing it's direction and purpose. I'm trying to be one of the artists who actually has something to say and wants to honor the tradition that my music is built upon.
Catch his EP "At The Party" featuring 3 joints, each with 'Club 808' and 'Boom Bap' versions.
For More info, Visit: http://www.thezyg808.com
Facebook, Twitter, Instagram – @thezyg808
ITunes: https://itunes.apple.com/us/album/at-the-party-ep/1430238539
Stream:
Apple Music: https://itunes.apple.com/us/artist/the-zyg-808/1399922668
Spotify: https://open.spotify.com/artist/5Ypsz39qiQ0zL4Q3VV1keD?si=vba1bGUDST2JZ-jzCatZjw