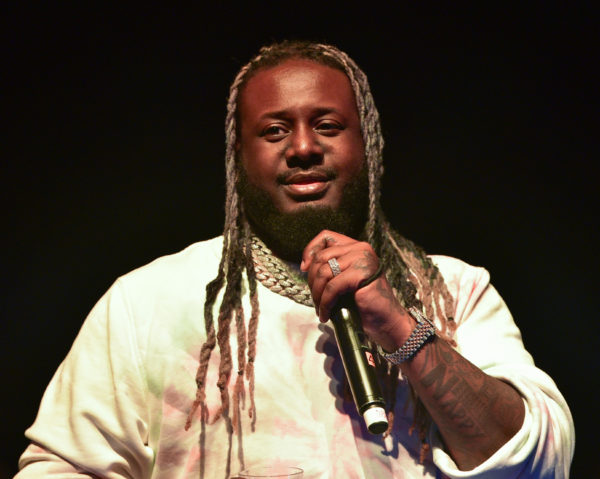 If you're an aspiring artist and are looking to send T-Pain your music, do one thing first…make sure it doesn't mimic another popular artist's sound.
T-Pain, like many other celebrities, is tired of the wannabe rappers copying their music off of other already-established rappers. On July 13, a clip of T-Pain's Instagram Live went viral, after the R&B artist left a message for aspiring musicians sending him their music.
"Do some different music," he screamed while shaking his table. "We have all the sh-t that you're doing. We have it. Lil Uzi is already doing it, Lil Baby is already doing it, DaBaby is already doing it. It's literally two n-ggas with Baby in their names that's already doing all the music that you want."
Continuing with his screaming rant, the Tallahassee native assured them, "You don't have to do that music anymore." He added, "Stop sending me this bullshit. And then get mad when I f-cking don't like it."
Fans and other celebrities agreed with the "Kiss Kiss" artist's feelings. One person said, "There's no creativity amongst the artist an or the producers. Music is not what is used to be smh." Another added, "Dude. We're alllll fed up. Everyone over 30 is like yoooo wtf?! 
."
Even rapper Nelly chimed in, saying, "I hear my cat @tpain and agree to a point bcuzz he know also It's not always about the artist doing something different it's about supporting the different..! If different is not being supported either by labels Radio or consumer then 
 .."
Several others held the opinion that '80s and '90s music is the last time that music was ever good. "That's why my playlist consists of 70s disco, 80s & 90s RnB, House music and only very few current hip hop songs 
."
The 36-year-old "Buy You a Drank" singer knows a thing or two about people using others' sounds. He is best known for using Auto-Tune heavily in his music although he caught flak for it after a while. Of course, he wasn't the first to use such voice-altering effects. One of the earliest groups to bring such effects to the forefront in funk was '80s band Zapp and Roger. T-Pain brought the sound back in the early 2000s, which caused the sound to bleed into the rap genre as well.
Now there are rap artists like Travis Scott who use Auto-Tune as part of their brand. Then there are some rappers that have used it but sparingly, like Kanye West, Snoop Dogg, Lil Wayne, etc.
Source: AtlantaBlackStar
https://youtu.be/kUMsNODStYo