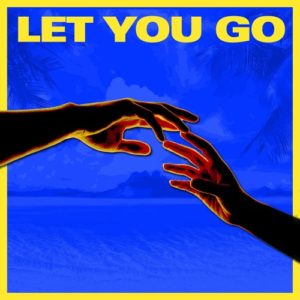 Rising singer/songwriter and pop Sensation
GATSBY
is back in Spring of 2021 with a new single that's tearing up the airwaves called "
Let You Go
." The island vibe/dancehall track features Latino crossover artist
AROZO
and is the duo's first mainstream project debut. The melodic flows and steel drums of this track keep listeners fully engaged and ready to dance. This track fits perfectly with the current weather climate as we warm up and head outside after a long and cold winter season.
In a recent virtual sit-down with GATSBY, we discussed the process of constructing "Let You Go" and were surprised to learn that the track was his first time ever writing and recording professionally in a studio. "This song has a really interesting story behind it, because not only was I forced into the studio that day by AROZO, but originally, we weren't even scheduled to make a song together.
I was just there to support AROZO as he was working on a few other tracks, and AROZO wanted to formally introduce me to this dope Producer named @InvisibleWill.  Towards the end of the session, @invisibleWill started playing around with this steel drum beat and I started humming along with what became the chorus to "Let You Go." Will suggested that I hop in the booth and record some reference tracks for the song that could possibly be sent to a female vocalist down the road. AROZO found his verse in his phone after looking at stuff he had written well over a decade ago and found the perfect fit, the rest is history! It really took us less than an hour to have the track fully written and recorded!
Once I was finished, I sent it over to @GreazyWil for him to add his mixing sauce and what we have is the song that you hear today. It really was an incredible, quick, and seamless process that introduced me to the world of songwriting and recording music, from that moment on, I was hooked and booked in the studio every week working. This song really was the spark that started it all."
"Let You Go" is available on all major streaming outlets and select iHeartRadio and local radio stations around the U.S.; Recently, "Let You Go" was picked up by none other than Sirius XM's "The Heat" channel 46 where it is currently spinning weekly. The future looks very bright for GATSBY as "Let You Go" marks his second single to go mainstream, following closely behind his last hit song "Somebody Else" which was able to create both radio and viral social media attention to this burgeoning pop artist.
GATSBY says that a full album of hits is imminent, and we can't wait to hear what's next! Keep your eyes and ears open for GATSBY's new single, "Let You Go" we have no doubt this one is going to bring Billboard level success to this rising star. You heard it here first!