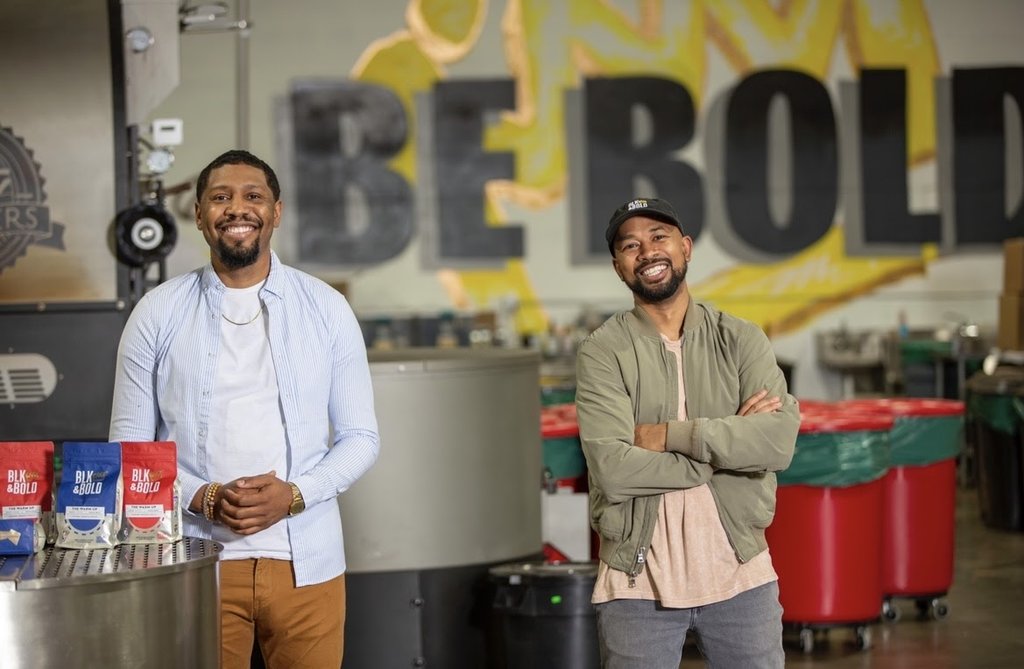 The first nationally distributed Black-owned coffee brand just announced a new multi-year partnership with the National Basketball Association (NBA).
BLK & Bold is a specialty coffee and tea brand started by co-founders Rod Johnson and Pernell Cezar back in 2018. The duo decided to start the company to increase representation in the coffee sector while also creating social impact by donating proceeds of their sales to organizations tackling youth issues. Last year, the brand expanded to more than 31 Whole Foods locations in the midwest region and launched an Amazon storefront. This year, just in time for their 3rd anniversary, the brand has reached another milestone, inking a multi-year partnership with the NBA.
"We're beyond excited to partner with the NBA in a way that continues our mission to turn the daily ritual of enjoying a cup of coffee into a means of giving back. This NBA alliance allows the social impact at our brand's core to be the most impacted and supported. It's validation of the consumers, fans, and partnerships that continue to prioritize socially conscious consumption and consumerism that makes a difference," Cezar said via statement.
The company will partner with the league to roll out their newest flavor, "The Warm-Up," a medium roast coffee with caramel flavors featuring two packaging experiences, the Eastern and Western Conferences. The flavor will be available in both whole bean and ground coffee for consumers, and for every official NBA licensed bag of coffee purchased, the NBA will match BLK & Bold's 5% "For Our Youth" contribution. Proceeds from the sales will continue to support the company's pledge partners, which "provide youth programming, enhance workforce development, and eradicate youth homelessness."
"It would be an understatement to state that we are thrilled to work with the NBA for this purpose-driven partnership that aims to amplify our efforts in resourcing America's youth in need. The NBA continues to exemplify how business should be conducted, considering that it doesn't happen every day that an organization of its magnitude seeks out a small business to partner with on such a cause. Consequently, my fanhood of the league is heightened tenfold," said Johnson.
The partnership marks the NBA's first licensee alliance with a Black-owned food & beverage brand. Currently, BLK & Bold features eight coffee products and 14 tea varieties, touted as the number one selling coffee on Amazon. 
"The Warm Up" blends are available now at www.BLKandBold.com.
Source: BOTW