"Ayyyyy!" New Orleans Is In The Building 
The Final Conversation: Sometimes Closing the Door is the Gateway to the Next Level.
Fresh off her hot single "On My Own" released in January 2021, R&B artist EUGEE releases another hit that is fully loaded with powerful lyrics meant to help others that may seem "stuck" in life. Her latest release, "Rectify/Final Conversation" is a two-part double feature that debuted on July 19, 2021. In these scintillating songs, EUGEE expresses a story in which a person is stuck in their own head and does not know how to move forward.
Imagine a time when you met someone and you needed to decide if they entered your life for a reason or just a season. In this sultry single, EUGEE enters a fantasy world in her head just to realize the man she desires is emotionally unavailable. Feeling lost and confused, EUGEE is faced with a difficult decision to either continue having sleepless nights and wishing for a romantic relationship with this person or making the bold move to end all contact with her love interest and have that "Final Conversation." 
EUGEE has been praised by her fans for creating such powerful lyrics combined with vivid music videos to deliver the messages in her songs. On top of being a musician, EUGEE is also a full-time medical doctor in Internal Medicine with specialties in Lifestyle/Culinary Medicine and recently completed a fellowship in Sleep Medicine.
Her passion to help our community during the COVID-19 crisis was widely recognized when she was featured in the New York Wire on National Doctor's Day earlier in 2021. EUGEE serves as an inspiration to all women that have competing demands for a work/life balance and uses her musical aspirations as her source for therapy. In fact, EUGEE is such a powerful role model and was recognized this past August in New York City as a Phenomenal Woman Honoree for all that she does in and outside our community.
Feeling fierce, EUGEE continues her journey of impacting lives by empowering women to rise up and become the best versions of themselves. Determined to make a mark in the Pop/R&B scene, EUGEE's inner passion is clearly shining and she is widely praised!  Make sure to check out her latest release, "Rectify/Final Conversation", available on all digital music platforms now.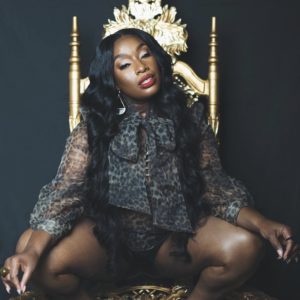 S101: Hey Eugee tell us about what your promoting and the details around it?
Since I re-emerged on the music scene in November 2019, my song catalog was entirely based upon a single story line (with the exception of "On My Own"). Think, similar to The Weeknd's After Hours album concept that played out over the course of a year. All of The Weeknd's songs and accompanying music videos seemed weird and out of place, but its interconnectedness was revealed during his Superbowl half-time show in January 2021. Regarding my music, the last part of my story line was encompassed in the two-part double feature that I recently released, called "Rectify/Final Conversation" which debuted on July 19, 2021. I love the whole "story line" concept because it allows the listener to see and feel multiple facets of a story expressed thru each song. For example, "Weekend" is a classic R&B groove that expresses feelings of nostalgia and longing while "Abandon" has a catchy trap/pop beat with attitude full of indignation. I should note however, that the songs weren't released in the manner of how the story actually unfolded, so that makes it hard to connect the dots.
S101: How long have you been doing music?
I've been singing and songwriting since I was 14 years old. Even though I completely embody my Taurean sign with my "strong-willed nature", I've also been labeled as an empath. I feel everything—even when it's a situation not concerning me. So, music is my way of coping thru Life. I know I wouldn't have made it this far in my life without it.
S101: Did you ever stop making music to focus on your medical career?
I did take some time off from music (about 10 years) during my medical school and residency training years, and my psyche suffered immensely. I realized that I wouldn't be able to make it through life without having some sort of creative outlet.
S101: What's unique about this that separates it from the rest?
I feel like everything about me is unique: from my name, to my music style and influences, my voice—even my station in life and how I got there. A clear example is despite the fact that I am a practicing medical doctor with multiple certifications and an extremely busy schedule, I still find time to create beautiful music with captivating visuals that people can relate to.
S101: Who was a part of this project that contributed to its success?
I've pretty much worked with the same team since I came back onto the music scene. For my beats, I get them from the amazingly talented HYPXR (who's a child prodigy in my opinion), Doc Cooley of Cool Down Music Group Studios who handles my sound engineering, my innovative voice coach Jomaine Battles, Jamie Gold who is an artistic visionary and creates album covers perfectly suited for me every single time and my entire music video production crew and stylists: acclaimed Films by Prophecy Productions with Director Victor "KV" Gonzalez, my clothing stylist India.Le, makeup artist Cris Michelle and hairstylist Sebastiana because they are all extremely skilled and consistent. Consistency is really important to me. We also vibe really well and for me, they feel like family. Every person that is a part of my team always pushes me 110% and I LOVE that.
S101: What message are you hoping to get across to the people by doing what you do?
As hard as it can be to juggle everything in Life sometimes, it really is all about balance and priorities. I hope that everyone who sees me can see a bit of themselves in me and see that it is possible to live the life you want. I want everyone to know that you do not have to give up on your dreams— no matter what you look like, where you come from, or what your age is.
S101: What are some other things people can expect from you in the near future?
The music video for "Final Conversation" was released at the end of August, but the music video for "Rectify" which is the second part of this final chapter of the story (or first, rather) still remains. Stay tuned for the passionate and provocative visual later this Fall!
S101: What are some other accomplishments you achieved this year that you are proud off? 
Earlier in 2021, I was recognized in a feature published in the New York Wire on National Doctor's Day for my work as a physician during the COVID-19 crisis and then this past August, I was presented with a "Phenomenal Woman" award in New York City by the "Black Girls Talk" Organization. Additionally, to add to my certifications in Internal Medicine and Lifestyle Medicine, I will be taking my Sleep Medicine board exam in November and I will be board certified in Sleep Medicine (I'm already claiming it!)
Follow EUGEE on Social Media at @EUGEE_O