Former NBA player Dennis Rodman made many headlines on and off the basketball court during his heyday while playing for the Chicago Bulls, Detroit Pistons, San Antonio Spurs, Los Angeles Lakers, and Dallas Mavericks. The antics he displayed were definitely fuel for the media to feed off of. Now, his name is appearing again, not for his behavior but in recognition of his daughter.
According to People, Trinity Rodman, who is the 18-year-old daughter of retired NBA All-Star Dennis Rodman, was drafted second overall in the most recent National Women's Soccer League draft and made her professional debut with the Washington Spirit over the weekend. She immediately placed her name in the record books by becoming the youngest American goalscorer in league history, minutes after entering the game.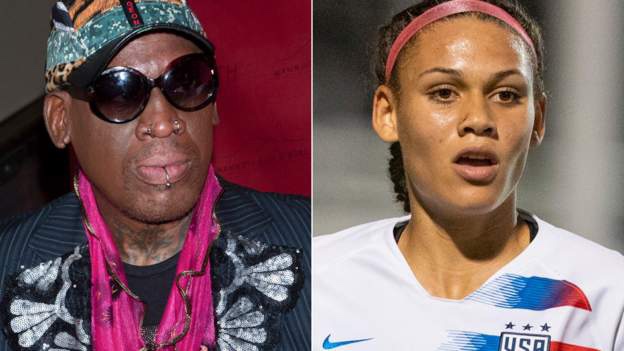 When Rodman was drafted, she was part of another historical feat—she was one of the six Black women selected in the first round of the NWSL draft in January.
"My team has helped me a lot, obviously, being a really young player and very new, it's definitely a lot faster, girls are a lot stronger, a lot more intelligent, at this level," Rodman said to reporters. "I think just getting advice from my teammates in scrimmages and practices, I've been able to kind of think ahead. And I think that's a huge part of what's helped me in the game."
"The kid is just brilliant. She's a machine as an athlete, just unbelievable," added Coach Richie Burke. "When you play against her, you train with her, you see how quickly she closes you down. She's deceptively quick to close you down. But now she's getting tactically better, too."
Source: BlackEnterprise