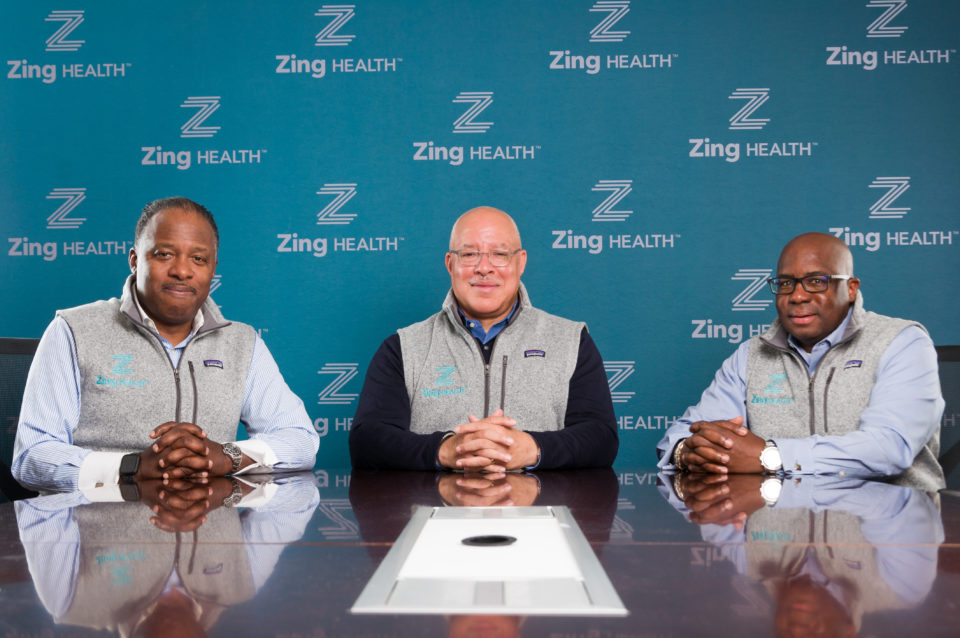 Zing Health, a Black-founded Medicare Advantage insurer, is expanding into 32 additional states and the District of Columbia with its acquisition of Lasso Healthcare.
The deal will allow Chicago-based Zing, a Black doctor-led insurer of healthcare plans, to buy Harrisburg, Pennsylvania-based Lasso, a provider of Medicare-related services for thousands of Americans.
Both companies aligned on a deal because of their like-minded approach,  Dr. Eric Whitaker, the CEO  and a founder of Zing Health, told Home Health Care News. He told Black Enterprise by email what makes this acquisition unique. "Other Medicare Advantage acquisitions have been by companies that have had multi-lines like commercial insurance or employer insurance — ours is strictly Medicare Advantage."
Zing was started in 2019 by two Black physicians/entrepreneurs, Whitaker and Dr. Kenneth Alleyne, and co-founder Black healthcare executive, Garfield Collins.  The firm provides Medicare Advantage (MA) plans to under-resourced seniors largely in the Midwest who are often minorities living in low-income and/or rural areas who may otherwise not have access to adequate healthcare. Lasso has a national reach and business model offering  affordable coverage to seniors across the country.
Reflecting on the deal, Zing Health reports the Lasso addition provides  "a national footprint to reach diverse communities with innovative Medicare Advantage health plans that lower the cost of high-quality care." Zing joins other new and existing health insurance firms using acquisitions and mergers to boost Medicare-related business that have been growing steadily, observers say.
The pact means Zing will expand into rural markets that could help it target Medicare-eligible seniors who are perhaps facing difficulty gaining access to traditional insurance networks.
"The rural community piece is a big one," Whitaker told Black Enterprise by email. "Heretofore, we've been focusing on urban diverse communities and having rural as part of that as an addition that's impactful."
Financial terms of the deal and how it will impact Zing's revenues were not disclosed. But Whitaker said the acquisition was funded with a combination of cash and stock. Once the pact closes — expected to occur by late third quarter of 2021 — Lasso will be operating under Zing's leadership but continue to offer its Medicare Savings Account (MSA) plans like it always has.
In general, a Medicare Advantage Plan, like an HMO or PPO, is offered by private companies approved by Medicare. They are sometimes referred to as "Part C" or "MA" plans.
Whitaker noted the Lasso Medicare Advantage plan includes a medical savings account. "We believe that as more employers have offered health savings accounts as part of insurance, that the potential customers will have more familiarity with this potential product, and we hope to be the leading company that offers this option across the country."
So how does this acquisition set Zing apart from other insurance providers?
"This is a capital-intensive business," Whitaker says. "Most of the other players we're competing against have raised near $1 billion plus. We are Black physician founded. We are targeting both urban and rural diverse populations. That sets us apart from other insurers; that's not their mission."
Plus, Zing is eyeing home-based care providers as potential partners as it expands and targets seniors.
"I think that home health and home care is a critical component to the health of senior members living their best lives," Whitaker told Home Health Care News. "And we're excited — as Zing Health and Lasso Healthcare — to be working with the industry to come up with new and better ways to serve our senior members."
Whitaker reflected on how the deal came to be.
"Our investors were trying to understand third-party distribution. Ritter Insurance Marketing, which owned Lasso, is the fourth largest field marketing organization in the country. In the midst of doing due diligence on another topic, we came across Lasso. We didn't seek to go get an acquisition of any kind. It just was opportunistic."
Source: BlackEnterprise