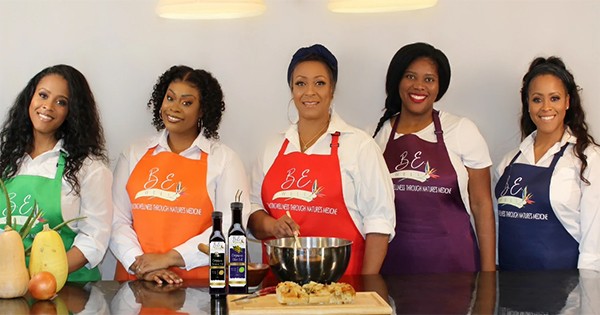 Meet the founders of The B.E. Well Company, which has launched the first and only Black-owned line of CBD-infused cooking oils that are both organic and non-GMO. Created by five family members (one aunt, twin sisters, and their two cousins), the company has launched a line of infused cooking oils to specifically help women get a daily serving of CBD along with the benefits of good healthy fats versus using regular oils, margarine, and butter.
The new line features four organic products including avocado, olive oil, grapeseed, and coconut. Each offers a full serving of clean organic, Colorado-grown CBD. As millions of women are turning to CBD to help with female issues such as PMS and hormonal imbalances, The B.E. Well Company has designed their cooking oils to offer even more. Good fats such as those found in olive oil and avocado oil have been clinically shown to help maintain heart health and the reduction of cholesterol.
Mali Montgomery, one of the five founders, is a prominent Atlanta Physician Assistant, who helps to oversee product development. Two of the founders, twin sisters Sherita and Sherie Murphy, were recently featured in the movie 
Coming 2 America
. The celebrity sisters are leveraging their musical careers and big-screen success to launch The B.E. Well Company's infused CBD cooking oil products into stores."The B.E. Well Company was started in our kitchen. We want to extend that to the kitchens of other women from all walks of life. The kitchen is where we talk and have conversations over food. Our products help start conversations around better health for the entire family," says Sherita.
Regina Murphy, the twins' aunt, develops recipes and does cooking demonstrations teaching people how to use the products in their own kitchen. Ayanna Carver oversees the company's marketing. They have also hired CBD Infusion Master and celebrity Chef Swan Simpson to collaborate on the brand's overall product identity.
The B.E. Well Company is the first woman of color-owned CBD-infused cooking oil on the market. Their products can be purchased online at MyBeWellLife.com and is available through a monthly subscription. And coming soon to local health food markets.
Also, be sure to follow the brand on Instagram @MyBeWellLife
For press inquiries, contact The Dominance Agency, Inc at 770-369-2649 or ssimpson@TheDominanceAgency.com
News Source: BlackBusinesscom