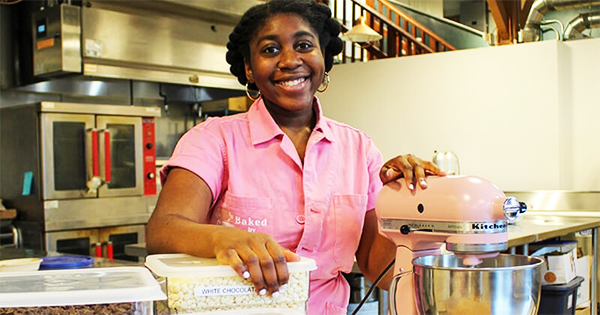 Chanice McClover-Lee, a 19-year old Black woman who is a student at Howard University, has opened her own vegan bakery called Baked by Chanice in Washington, DC that offers gourmet vegan treats such as cookies and custom cakes.
Chanice, a Howard University student, started baking last year as a pastime during the pandemic. She decided to sell her baked goods at farmers' markets in South Florida and when it became an instant hit, she pushed through with launching the business.
Now, she is opening a bakery in a food hall and commercial kitchen in Washington, DC that is open every weekend. She will also continue selling the cookies and cakes at some farmers' markets.
Baked by Chanice specializes in unique cookie flavors such as red velvet cheesecake, s'mores, and chocolate chip coconut walnut. They also accept orders of custom cakes and cupcakes in several flavors. All the baked goods are completely vegan and not made with eggs, milk, dairy, or any animal products.
"It is Baked by Chanice's goal to transform the meaning and perception of what vegan can taste like for all customers, one soft and crispy cookie — or moist and fluffy cake — at a time!" Chanice told VegOut.
For more information about Baked by Chanice and/or to order online, visit BakedbyChanice.com
Source: BlackBusiness