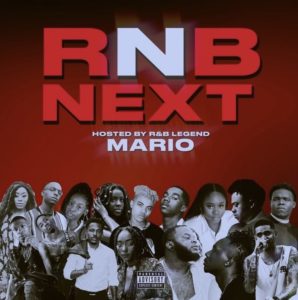 Looking for some high quality music to keep you in good spirits during quarantine? Your prayers have been answered. RNB Next, a compilation album hosted by singer and songwriter Mario is here to shine light on R&B artists from around the world providing them with an opportunity for their music to reach a broader audience. Conceptualized by music creatives Devin White and Deja B, these two have come together to creative a unique listening experience for the culture, which garnered the attention of Mario.
Created with vision to highlight the many nuances and colors of R&B music, this platform features artists from over 13 cities around the country and at least 6 sub-genres. These genre's include R&B, alternative, urban R&B, adult contemporary, neo-soul and more. By having Mario as the host, the project is leveraging his massive influence to nightlight, allowing fresh R&B artists to share their musical journey. RNB Next is taking the time to ensure each artist involved completely understands the song registration process as well as completes it before release.
When asked what was the basis of this initiative White responded "RNB Next is not just about the music or the money. It is also about the process and the knowledge. Once anyone has that they can demand change". In discovering some of music's next big stars, Deja and White have put together an impressive lineup of singles that highlight each artist featured in a tasteful and sonically pleasing way. White further explains that "We have artist involved with the project that have never filled out a split sheet or never became members of a performance rights organization that are developing the tools to empower themselves. That makes this project all Worth it".
The lucky artists chosen to break RNB Next into the world includes Je'Juan Antonio, SlaywithYe, Mayah Dyson, Ashton Reynolds, Eli Ahmad, Antonius, Antonio Lamar, Hemmingw8y, Miriam Sintim, DeVion, MsVonnaB, Nijad Taylor, Reed Shannon, Ellujai, B'iousha. This platform is changing the way independent R&B artists matriculate. It is exactly what music creatives need to survive the pandemic.
To learn more about what is up next for Mario, Devin White, Deja B, and RNB Next, visit the official RNB Next website here. In the meantime, press play below to listen to the official RNB Next Album.