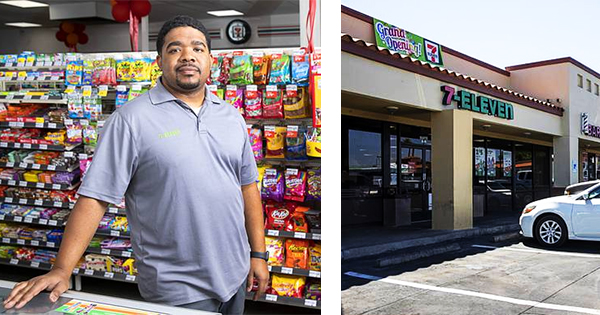 30-year old Johnathan Lacy has made history as the first-ever African American owner of a 7-Eleven franchise in the state of Nevada and in the city of Las Vegas. He says that he was able to do it with his own money and without any other investors!
As a young person, Johnathan, who grew up in South Central Los Angeles, always aspired to be an entrepreneur and didn't stop pursuing his goals despite the many challenges he encountered. He says that over the years, he tried pursuing many ideas and applied for business loans from several lenders and banks that rejected his application.
"A lot of people won't take that chance on you. Especially being 30-years old and not having a million-dollar mansion in my name," he told the Las Vegas Sun.
Refusing to give up, Johnathan took any job he could, worked hard, and saved up his own money to invest in his business. And after a year of planning, he managed to open his store.
He said he didn't even know that he was making history until the 7-Eleven corporate team pointed it out to him. He is hoping his achievement will encourage others to follow their dreams as well.
"I hope it leads to more businesses being opened by African-Americans as well as women, minorities, and everybody. Hopefully, we can all have a hand in establishing ourselves," said Johnathan.
He says that he doesn't plan to stop with just one store. He wants to expand quickly, hoping to open three or four more 7-Eleven stores in the Las Vegas area within a few years.
Those who wish to support his store can visit his location at 421 East Tropicana Ave Las Vegas, NV 89120. It's located less than 2 miles from the world's most famous hotels.
Source: BlackBusiness