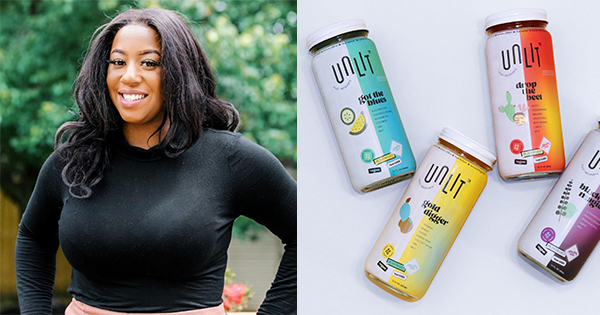 Meet Lia Lee, the founder of UNLIT™, an all-natural, vegan, hangover recovery beverage line that uses superfood ingredients to detox and restore your body. Just recently, her company was selected as a semifinalist in the BevNET 2021 New Beverage Showdown, a pitch competition hosted by Venturing and Emerging Brands (VEB) – the Coca-Cola business unit that identifies and develops a portfolio of brands with billion-dollar potential.
Based in the Washington DC area, Lia, like other millennials, found herself dealing with her share of morning-after woes following her nights out. She says that she needed to find a way to rebalance herself, and she knew she wasn't the only person who felt this way. So she created UNLIT™ as an adaptogen recovery drink that effectively helps young professionals to balance work, a social life, and everything else in between.
According to a report by RAND, a national survey found that the overall frequency of alcohol consumption increased in 2020 by 14% among adults over age 30, compared to 2019. As mask mandates continue to ease, with patrons back out and more public venues opening up their doors to full capacity, hangover remedies will be important to consider now more than ever.
The pitch competition will be streamed live on YouTube on Tuesday, June 15th, at 3:30pm EST, followed by a live audience voting period. Support the brand by casting your votes for UNLIT™ on Tuesday, June 15th at 5pm EST during the BevNET Livestream Event on YouTube.
To vote for UNLIT, visit:
www.bevnet.com/livestream/new-beverage-showdown-21-semifinal-round
About UNLIT™
UNLIT is an all-natural adaptogen recovery drink that helps you rebalance your mind, body & soul. Their four delicious beverages are blended with a 'bio-availability' first approach to provide the boost you need to take on the next day, and to replace essential nutrients lost after exercise, late-nights, and hangovers.
Learn more at https://unlit.co/ or follow the brand on Instagram @getunlit
Source: BlackNews